Arts
Business
Computers
Dating
Education
Entertainment
Environment
Finance
Food
Gambling
Games
Health
Home
Internet
News
Other
Recreation
Reference
Shopping
Society
Sports
Technology
Travel
Webmasters
List Your Site Instantly

Steps To Take When You Plan Your Bathroom Remodel
Posted by robertsjennifer in Home on January 14th, 2020
Is your bathroom out of date? Do you want a new bathroom? Do you want a relaxing bathroom where you actually feel great? If you answered yes to any of these questions, you should definitely think about getting your bathroom remodeled.
A bathroom makeover is one of the most interesting home projects you can start working on. Everyone wants a great bathroom. There will be a lot of work involved, but the results can be truly fantastic – you will enjoy spending time in the bathroom, you will feel proud of it and it will make you happy. What's more, a new bathroom can increase the value of your home tremendously. So, if you want to sell your home in the near future, starting a bathroom reconstruction project can be very beneficial.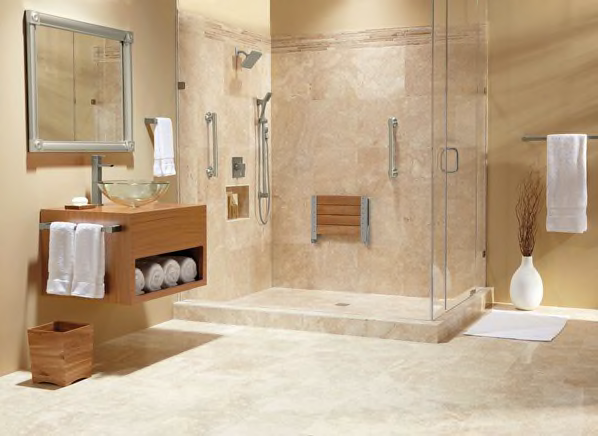 How Much Does A Bathroom Remodel Cost?
As in all construction work, the prices can vary a lot - and when we say a lot, we really mean A LOT. The prices can start from ,000 for a very simple remodeling project to more than ,000 for a complete bathroom reconstruction, with high-end fixtures and details. However, the average prices for most projects are hovering around ,000 to ,000. In this price range, you will get medium-range fixtures, details, and materials; these prices also mean you will work with good bathroom contractors, so your project will be in good hands (make sure to allocate 20 percent of your budget for labor).
Preparing For The Bathroom Remodeling Project
The first thing you should do before starting is to have a concept for your bathroom. Even if you don't have all the details in your mind, it's very important to have a general idea or concept for how you would like your bathroom to look and feel - consider the colors, the materials, and the general layout. There are a lot of options to choose from, a lot of fixtures, materials, and techniques. Here are some things to pay attention to:
The colors – while most people prefer to have a white bathroom, there are other alternatives you can try; blue hues are getting very popular; gray is also becoming rather trendy;

The new fixtures – these items are probably the most important for your new bathroom. Determine which fixtures you want to be changed and what you'd like to replace these fixtures with; pick the models you want, but make sure you do your research beforehand. Keep in mind that every new item will cost you money, whether you are buying it or in terms of labor;

The storage areas – a good bathroom must have at least one area where you can store items – towels, toiletries, and other various objects; make sure you include shelves, cabinets or other types of storage areas in your project;


The location of the utilities – make sure you locate and know precisely where the utilities are located – the plumbing pipes and wiring; make accurate measurements for all utilities that will need repairs.


The Tools And Supplies You Will Need
If you want to do the remodeling yourself, you should buy all the tools and supplies before starting the actual work. On the other hand, if you want to work with professional contractors, you will not have to get any tools or supplies. Bathroom contractors will take care of this aspect.
Here are some tools and supplies you'll need:
Safety mask, goggles, gloves, caulking gun, hammer, silicone sealant, spackle knife, stud finder, tape measure, chisel, bucket, pry bar, adjustable wrench, hacksaw, chalk line, extension cord, utility knife, flathead screwdriver, and a power drill.

Optional tools: wet-dry shop-vac and cordless drill (makes it easier to move around)


Starting The Bathroom Reconstruction Project
Step #1 - Remove old bathroom fixtures
The first step of your remodeling project is the removal of old bathroom fixtures. You'll have to remove the drywall, the tiling, and the fixtures. Make sure you remove only the items you want to be replaced. Here's what to do:
Drain the bathtub, the toilet, and the sink – this will avoid any unpleasant spills

Remove all fixtures

Remove the insulation of the walls, the tiles, and the drywall

Remove the cabinets, the mirrors, and other details


Step #2 – Install the new bathtub or shower
These are the first things you will install because they are the largest and will require more room to move around. There's also a variety of options for these fixtures. You can either have only a bathtub or a shower, or both. The shower can be either rectangular, square, pentangle or even oval. You'll need to choose the type of shower that is best suited for the bathroom. Bathtubs also come in a huge variety of shapes and sizes. Make sure you pick one that goes well with the overall design and isn't too large. Ask for help from bathroom contractors if you don't know how to install the new bathtub or shower.
Step #3 – Install the new fixtures
You can now install the sink, the faucets, and the cabinets. These are small items, so there won't be any problems when installing them. Just make sure you pick high-quality items that complement the bathroom. Also, pay attention to the electrical components, if they are available in your bathroom. Now it's the time to install sockets and other electrical fixtures.
Step #4 – Lay down the tiles
Every bathroom remodeling project should include new tiles. They should only be laid down after the fixtures were installed. Use a mason's chalk for guidance during the installation to avoid any errors. Make sure you keep a straight line, a crooked tiling job looks horrible.
Step #5 – New drywall and a new paint job
Finally, your bathroom is starting to take shape. Now, it's time to hang the new drywall and work on the new paint job. This can be a long process, especially if you need to cut the drywall to accommodate fixtures. The paint should be applied in multiple layers. This will create a simple, clean look for your bathroom. As soon as you completed this step, you are done!
Tags
bathroom, will, your, fixtures, &ndash, make, have, want, project, sure, these, step, should, install, remove, this, other, work, remodeling, that, drywall, with, starting, shower, items, need, also, tools, supplies, contractors, very, there, most, details, bathtub, prices, they, paint, utilities, tiles, only, around, what, more, time, home, where, feel, reconstruction, from, here, pick, first, good, materials, cabinets, make sure, your bathroom
Related Articles
Share This
Link to this page:

Discuss