What is Ammonia Cracker?
Posted by mvsengg18 in Technology on June 18th, 2018
Anhydrous ammonia is an extensively used item that is accessible throughout the country in low-pressure tanks in liquid form. Every country has strategies for its safe handling. Throughout the world, there are facilities for storage and transport by pipelines, trucks, and barges. It is safely transported from the producer to ultimate consumer. Therefore, anhydrous ammonia (in liquid form) is the magnificent medium of storage for hydrogen. Ammonia and the compounds are used majorly in the agricultural industry as fertilizers.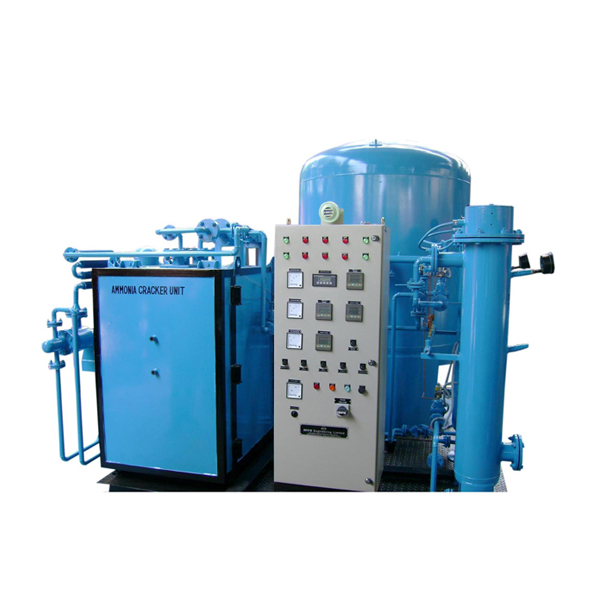 Ammonia is used as a fuel because of its important aspects like low flammability, low toxicity, and it's purity levels that are guaranteed because of the way it is manufactured. The major contaminant is water, which has no adverse effect on the fuel cell operation. From a technical point of view, ammonia offers, in comparison to hydrogen, significant advantages in cost and convenience as a fuel due to its higher density and its easier storage and distribution. The heating value of liquid ammonia is similar to that of methanol. Ammonia contains 1.7 times as much hydrogen as liquid hydrogen per volume.
Ammonia Cracker
Ammonia cracking is a method of separation of gaseous anhydrous Ammonia (NH3) into a mixture of Hydrogen (H2) and Nitrogen (N2) calling to a reaction:
2NH3 = N2 + 3H2
Ammonia Cracker works for the fabrication of a combination that is made up of 75 % hydrogen and 25 % nitrogen. It is supplied with a stainless steel heat exchanger which let the ammonia to be preheated before it comes in to contact with the catalyst as well as cooling the mixture. The latter is used in furnaces for thermal de-oxidation treatments.
Ammonia cracking is an easy and economical method of manufacturing hydrogen; however, it may be used only in the applications, in which presence of nitrogen is acceptable.
Ammonia can be used in various propositions. Some of its main applications are listed below.
Brazing
Sintering of metals
Hydrogenation of oil
Bell type annealing furnaces
Metal powder annealing
Annealing furnaces with reducing atmosphere for heat treatment of steel that is cold rolled.
MVS Engineering, a leader in Air and Gas solutions, undertake supply of custom built gas generators for specific Heat Treatment requirements. You can just share your requirements and the company will offer you the most appropriate and economical solution.
Tags
ammonia, hydrogen, used, that, liquid, heat, annealing, with, furnaces, fuel, storage, anhydrous, which, nitrogen
Related Articles
Share This
Link to this page:

Discuss